Worldwide presence
The growth of the Hannecard Group has been characterized by a strong international focus and a commitment to improving service in local markets. Local partnerships ensure that Hannecard technology is available across and beyond European borders, and enable the complete standardization of roller coverings.
Hannecard Group
Ever since its founding, Hannecard has specialized in roller covering for industrial applications. Today Hannecard is the umbrella name of a leading international group of companies, with 12 own production units and 9 joint ventures worldwide.
Giving top priority to flexibility and quality, Hannecard has always adhered to a policy of international growth through local presence. This enables it to respond to its customers' needs immediately and adequately. Hannecard is the leading group in its sector and manufactures roller coverings for the paper, metal, plastics, packaging, printing, textile, food and wood industries, among others.
Thanks to the group's international presence, its customers can all rely on the same high-quality products, regardless of where their production facilities are located. This is yet another reason for which the Hannecard Group has earned the trust of many OEMs worldwide.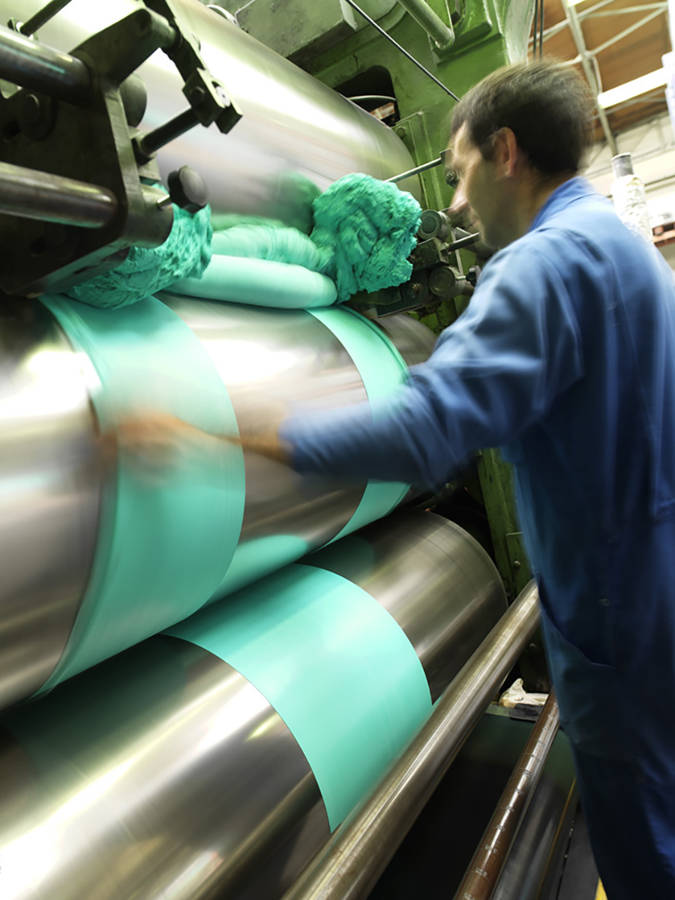 2021
2020
2019
2018
2017
2015
2014
2013
2012
2011
2010
2009
2008
2007
2006
2005
2004
2003
2002
2001
2000
1999
1997
1995
1994
1991
1987
1982
1929
1896
Thanks to the acquisition of ASB industries, located in Barberton, Ohio, USA, Hannecard settles down on its 5th continent with Hannecard Roller Coatings, Inc.
ASB industries is one of the leading and innovating companies in thermal and cold spray coatings in the US.
Hannecard acquires Rollin Rollers and Belts, one of the largest players in Europe and Asia for the production of rubber shrinking belts and a major player in roller coverings for the tissue converting industry.
Both Belgian Hannecard locations are moving to a new company building in Ronse.
Hannecard's joint venture HMSU, opens a second production facility in Coïmbatore, India.
Hannecard also becomes majority shareholder in its South African joint Venture H&M.
Construction starts on new building at headquarters in Belgium.
Joint venture with TecnoRulli (producer of rollers and machinery for conveyors) in Italy with integration of HMI.
Opening of a new production facility in China by joint venture partner Gomplast.
Hannecard acquires PikoAsur, a specialist in industrial paper mill maintenance.
Founding of Hannecard North-West in Russia.
Joint venture with Hamico in Brazil and HMSU rollers in India.
Hannecard Belgium opens a new silicone production facility and starts ESA production.
Hannecard France invests in a 12m lathe, a new laboratory and a new 35m vulcanization oven.
Launch of Hannecard RU in Kursk, Russia.
Participation in Gomplast China.
Acquisition of Manufacture Bordelaise de Caoutchouc (M.B.C).
All group sites' names are changed to Hannecard.
Hannecard acquires the roller division of Spanish covering specialist Garay.
New additions to the Hannecard family: Italian roll coverer Salvas Rulli and South African Rubber Rollers.
Merger of Hannecard and Hannethane.
Hannecard Group obtains ISO 9001 quality certificate.
French family business Ziegler joins the Hannecard Group.
Hannecard announces the acquisition of Hüber & Sühner's roller covering activities in Switzerland.
Launch of Hannecard Algeria.
Launch of KDP department at Kalker France, comprising a new production facility for covering and grinding for paper mill presses.
ISO 9001:2000 certificate for Kalker France.
Founding of Hannecard Polska (Poland).
Various joint ventures in China and Syria.
Both Hannethane NV and Hannecard NV obtain ISO 9001 certificates.
Kalker France acquires ISO 9002 certificate.
Acquisition of the Dutch company Trelleborg Velp.
Launch of H&M Rollers activities in South Africa as a joint venture.
Founding of commercial agency Hannecard Netherlands.
Founding of Hannecard Saudi Arabia.
Acquisition of roller covering company Kalker (France).
Founding of Hannecard Rhône-Alpes in France.
Manufacturing of glass fiber reinforced sleeves begins.
Hannethane acquires ISO 9002 certificate.
Founding of Hannethane NV. Hannecard urethane division moves to a new location in the industrial zone of Ronse, Belgium.
Fire destroys most of the production facilities, after which new buildings are erected.
The polyurethane division begins manufacturing technical parts.
Founding of Hannecard Tunisia.
Hannecard Templemars is founded near Lille, France.
Launch of the urethane division and development of the Hannethane compound.
The company is taken over and Hannecard NV is founded, employing 25 employees and generating a yearly turnover of €1.15 million.
MR J.Hannecard founds the company in Ronse, Belgium. The core business is roller covering and surface protection in ebonite.
Foundation of the Kalker company, which has been integrated in the Hannecard Group in 1997.
Research & development
Research and Innovation have always been the cornerstones of the Hannecard Group's activities. Innovative ideas, technological improvements and new product developments are central to the performance and added value of the group.
At Hannecard's global and local laboratories, dedicated teams of researchers and developers work constantly to develop new rubber, polyurethane, carbide and composite solutions that are appropriate for the specific operating conditions of each client, as well as meeting the demands of the market in general.
Besides developing new products and improving existing ones, the R&D team attaches great importance to making existing production processes even more efficient. Improving performance and precision entails:
conducting performance control of existing compounds
manufacturing semi-finished items
carrying out research and innovation to create area-specific solutions.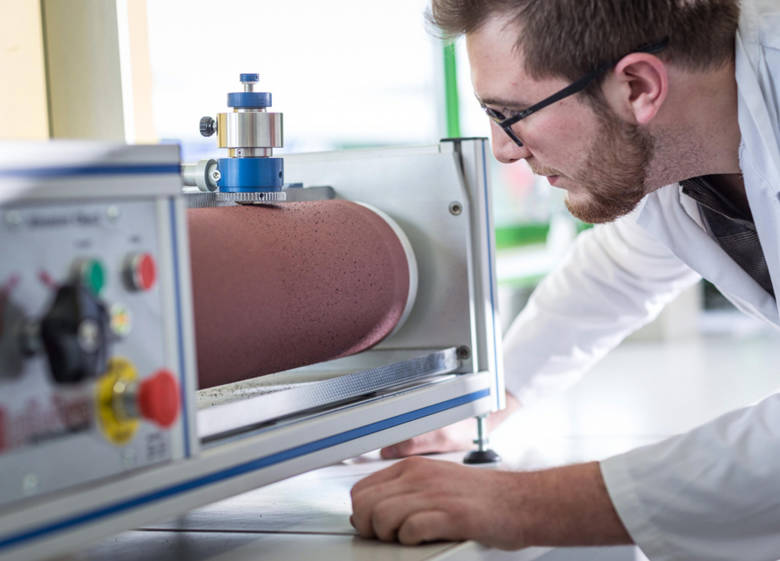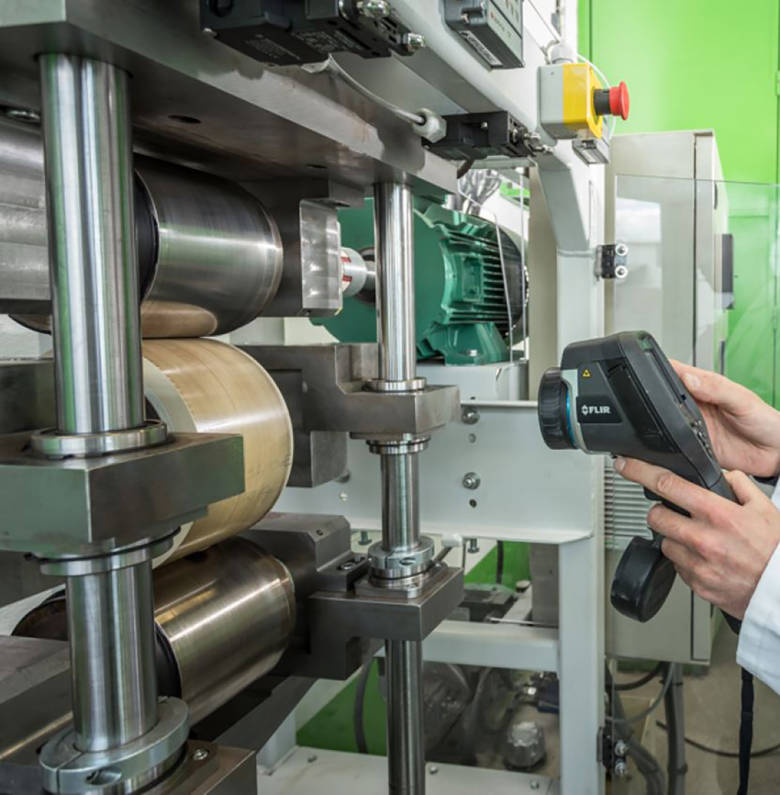 Performance driven
A job worth doing is worth doing well. Hannecard is committed to achieving the best possible level of performance, and to ensure that the performance of every product is outstanding as well. The aim is to create roller coverings and offer outstanding services which will contribute to maximizing output performance.
Measurement & performance
To be ready for the future of information technology Hannecard has begun introducing sensors into its products and production environment. Key roller data recorded by these sensors is monitored and measured in an energy-efficient manner. For Hannecard's customers, this results in increased productivity, cost reduction and predictive maintenance. Data aggregation and correlation provide better insights and enable quality improvements.
Hannecard is evolving from a roller manufacturer to a roller covering service provider.
Innovation & performance
At Hannecard, every member of staff is constantly encouraged to explore opportunities to create new products, new services and new production techniques that will enhance performance.
Moreover, Hannecard is committed to forming solid partnerships with machine developers and line builders. Cooperative efforts – especially in the early stages of development - often result in strong symbiosis and enable end users to benefit from better performance and a more efficient application of time and money.
Sustainability & performance
To minimize our ecological footprint at Hannecard, sustainability is at the core of our sourcing, production and distribution.
To contribute to the environmental preservation we have reduced our energy consumption drastically and focused on renewable energy by using solar panels. At the workplace and on the production floor we have been working paperless for several years now by using smart asset management software.
Since 2016, we have been constantly been developing new compounds, to make sure that all our elastomers are MOCA-free and comply to the latest European regulations. Each day we focus on improving our elastomers to make them last longer, which in the end results in better performances, in less energy consumption and a lower wastage for our customers !
Operational excellence & performance
Hannecard draws up clear operating procedures that are easy for associates to understand, and all associates receive training in how best to perform their tasks, from realizing a roller covering to choosing the proper protective packaging for it and delivering it within the agreed lead time.
Furthermore, when you use high-performance Hannecard coverings your operations will benefit from clear improvements in cost control, functional performance and quality performance – perhaps even all three.
Market presence & performance
Hannecard's prime objective is to stand by its customers – both geographically and personally. To this end, it has established a network of own-production facilities throughout Europe, the Middle East and Africa. Hannecard has also built up a network of license holders in Asia and America who provide Hannecard's roller covering solutions around the globe.
HANNECARD your roller expert
We build strong relationships